First let me send my deepest condolences to the Kletxky family and their community – This is every parents worst nightmare!
As the father of a 4-year-old and a newborn, it took 24 hours to build up the stomach necessary to open an article and read about this abhorrent event. ABC has a great website which autoplays news stories to correspond with related articles. These video feeds are automatically, and seamlessly, interrupted to play commercials. Most of these commercials are likely served on the basis of relevancy to page content or behaviorally targeted to the unique visitor. As the parent of an almost 5-year-old boy who thinks Mater and Lightning McQueen are the next logical choice to run the U.S. Government there are any number of factors which could have influenced the advertisement I was horrified to see interrupt this earth-shattering story (screen shot below).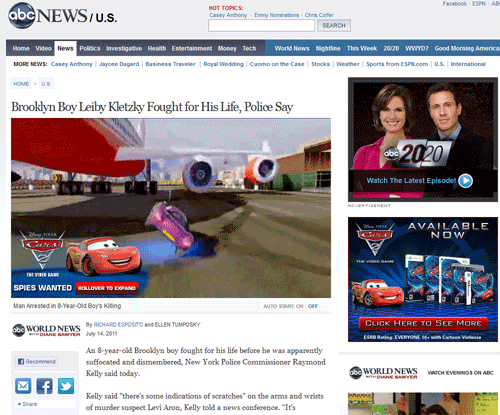 The ball was simply dropped. Someone in ABC's online advertising department should have made this correlation. If not someone at Disney or the game manufacturer, anyone for crying out loud, should have caught on to the fact that these ads would publish on this page. Perhaps I am simply having a visceral reaction to this senseless and horrific murder of an innocent child. Then again, wouldn't most people in this ad's target demographic (as well as most of the human population) also be in the target demographic for a similar reaction?
Media placement  is a responsibility one has to their client as well as to human decency. I promise you when the bell rings 5:00pm here I will b-line it straight into my children's arms and NOT stop to buy them a video game along the way. What I would like to see on this page is a link to where donations can be made to help the family and/or any charities that support children and end violence against them – now that would be good rich media targeting and the descent thing to do.